05-12-2022
The Breakthrough Exfoliation Routine to Clean and Improve Your Skin
DR GARRY CUSSELL
Here's the breakthrough cleanse and exfoliation routine you need to penetrate, clean and repair your skin.
You may be wondering why your current cleanser and exfoliating scrub are not giving you the skin complexion results you desire.

The answer is, they do not have the right exfoliating ingredients to do the job they claim they can do. Rejuvaus has made a breakthrough to produce both a cleanser and revolutionary exfoliating serum that will clean, penetrate and repair your skin leaving you with a lasting glow.

Here's why your current skincare routine may not be working, and the products you should be using.
Why many cleansers are unable to clean your skin?
There are so many cleansers that are not truly capable of properly cleaning your face. This is because most cleansers do not contain enough Alpha Hydroxy Acids (AHA), which are the ingredients you need to remove the dead skin cell layer on the surface of your skin.

This dead skin cell layer entraps surface microorganisms, pigments and oils and needs to be cleaned away so the cleanser can access the skin cells beneath it. The problem with non-AHA cleansers is they are unable to clean this dead skin cell layer away, to free your skin's surface for normal function.
The Best AHA Cleanser to Clean Your Face
So, now we've established you need an AHA cleanser in your skincare routine, you need to make sure your cleanser has enough AHA ingredients to do the job.

Rejuvaus has two cleansers that contain a large amount of AHA ingredients so they can clear away the dead skin cell layer and penetrate deeper into your skin. Both cleaners are guaranteed to leave your skin clean and hydrated.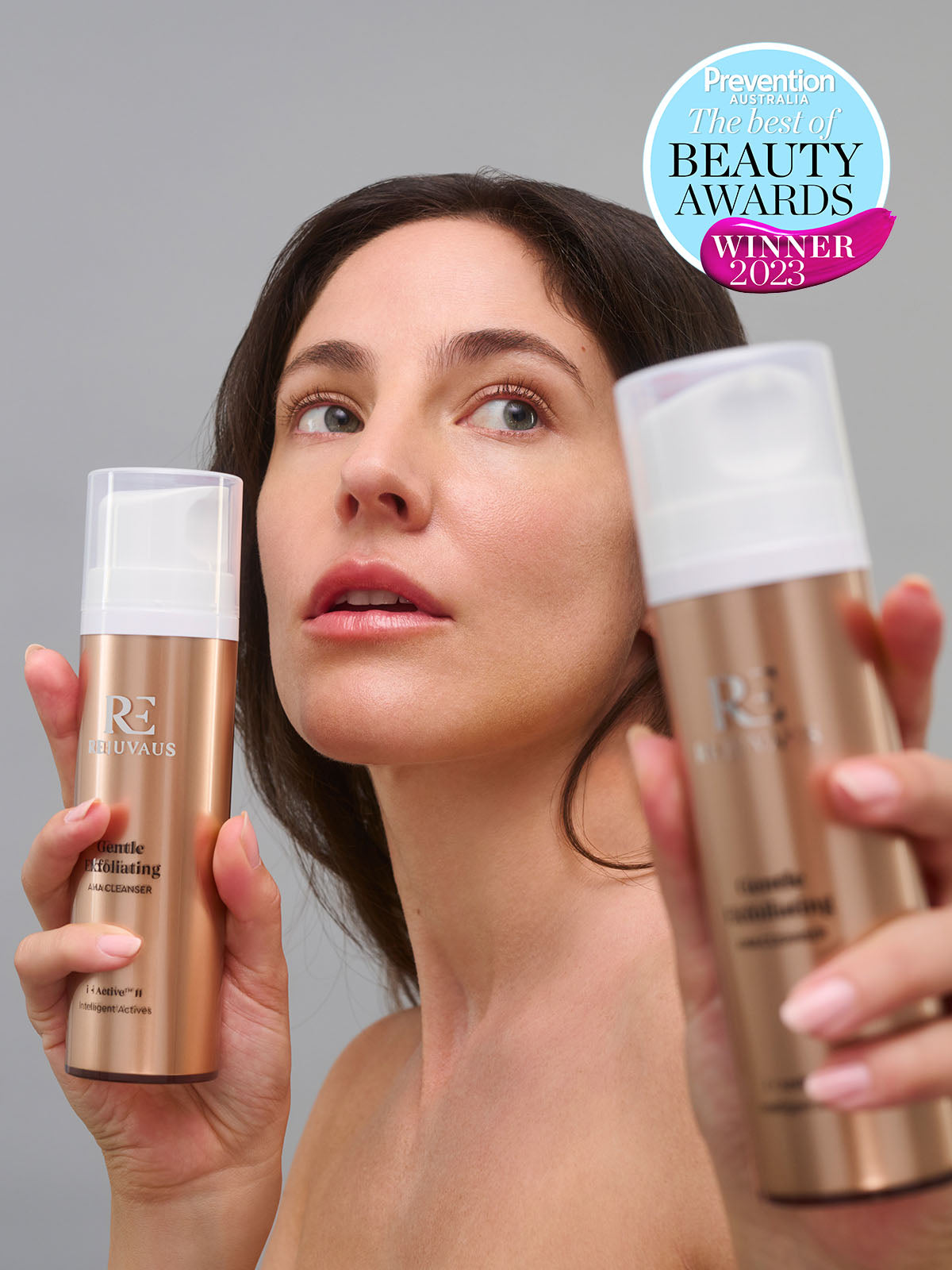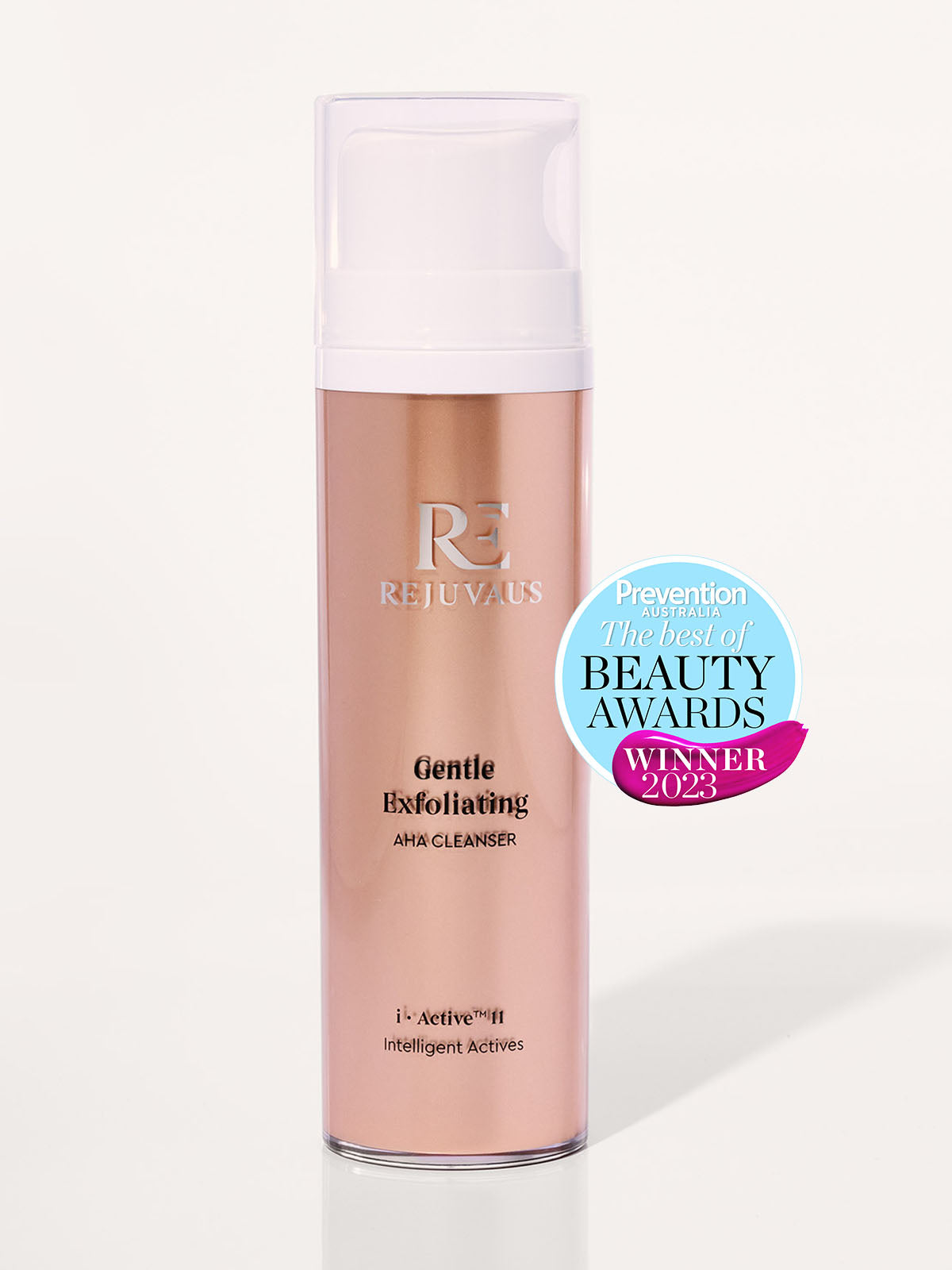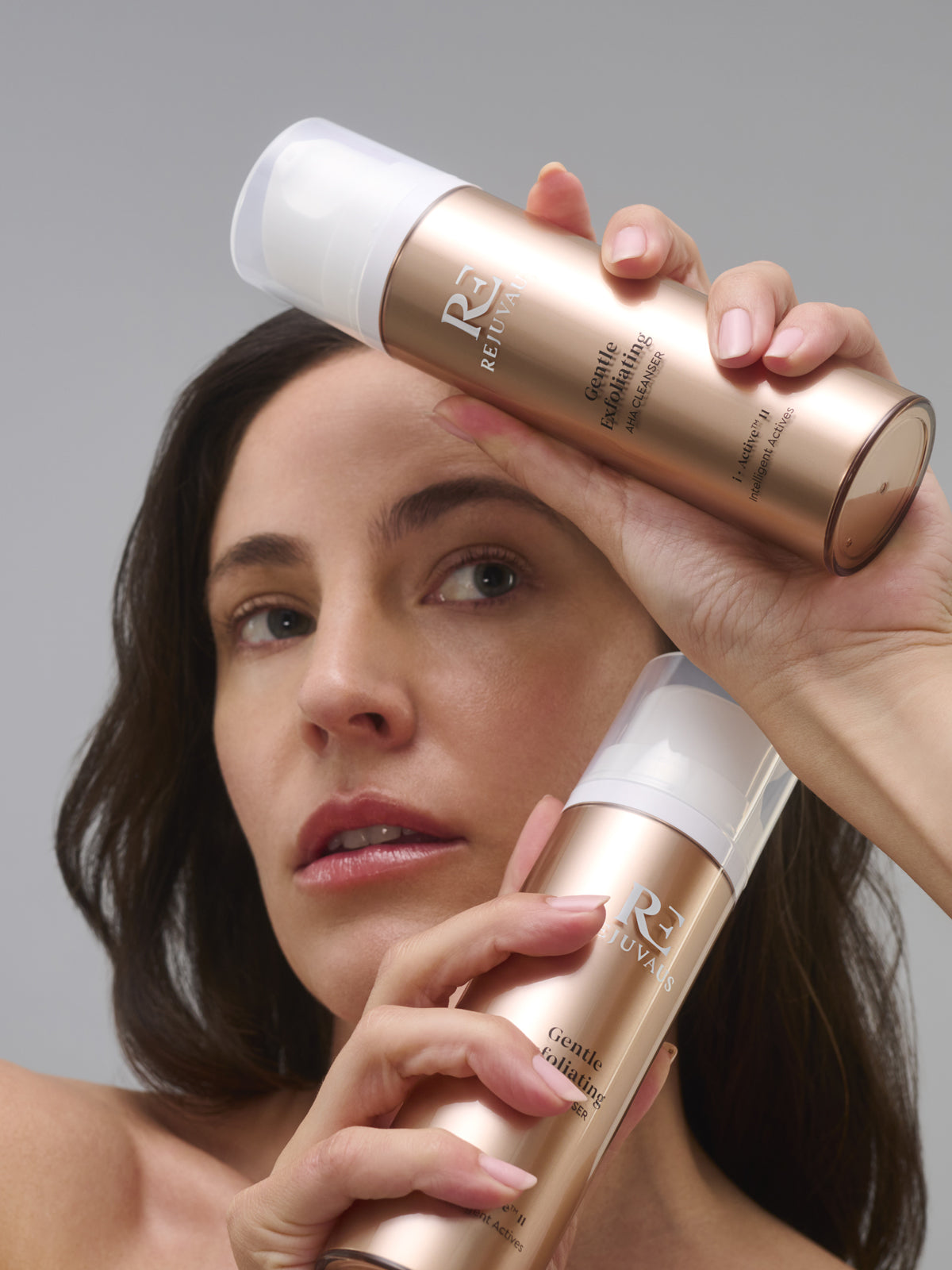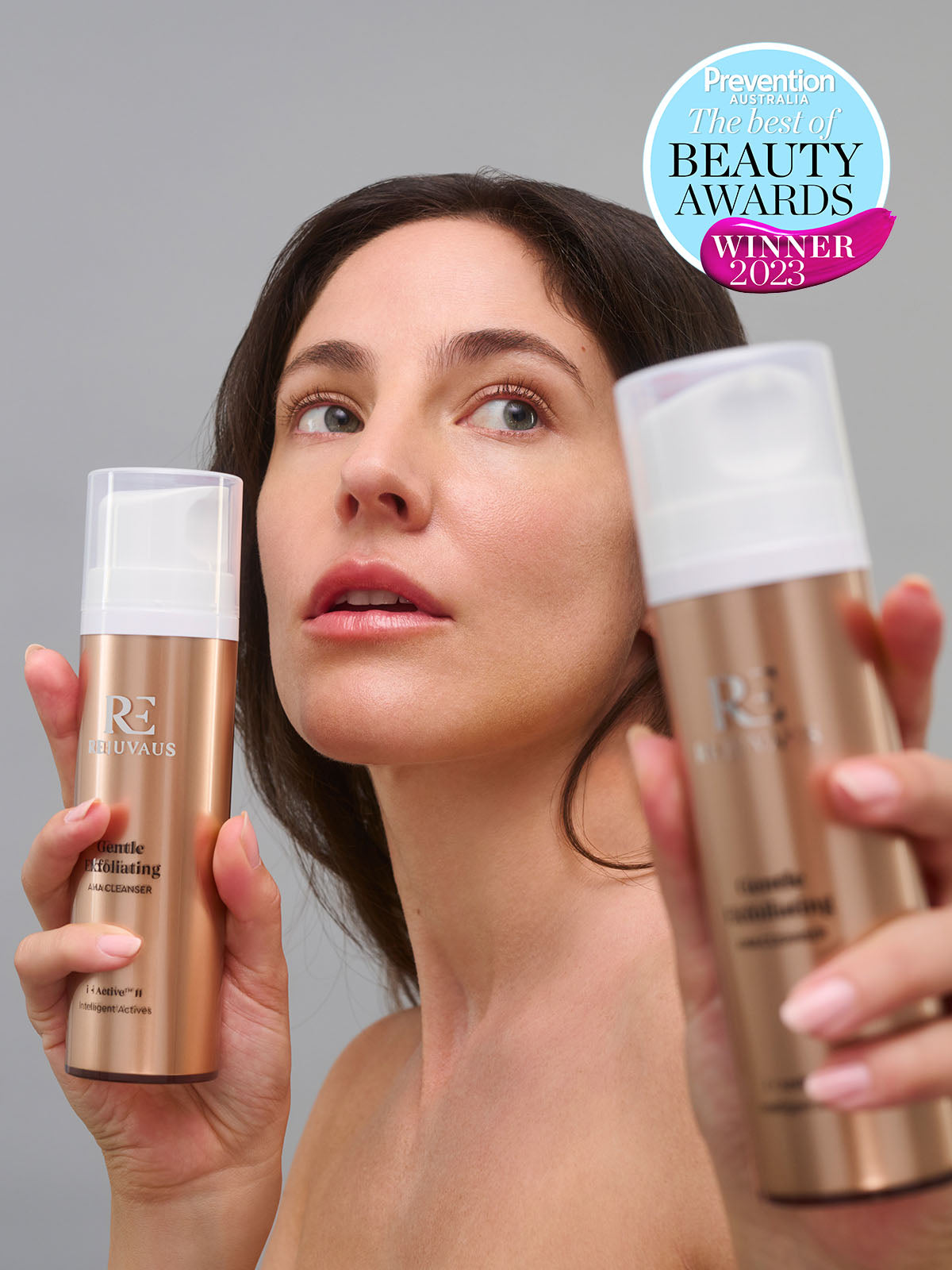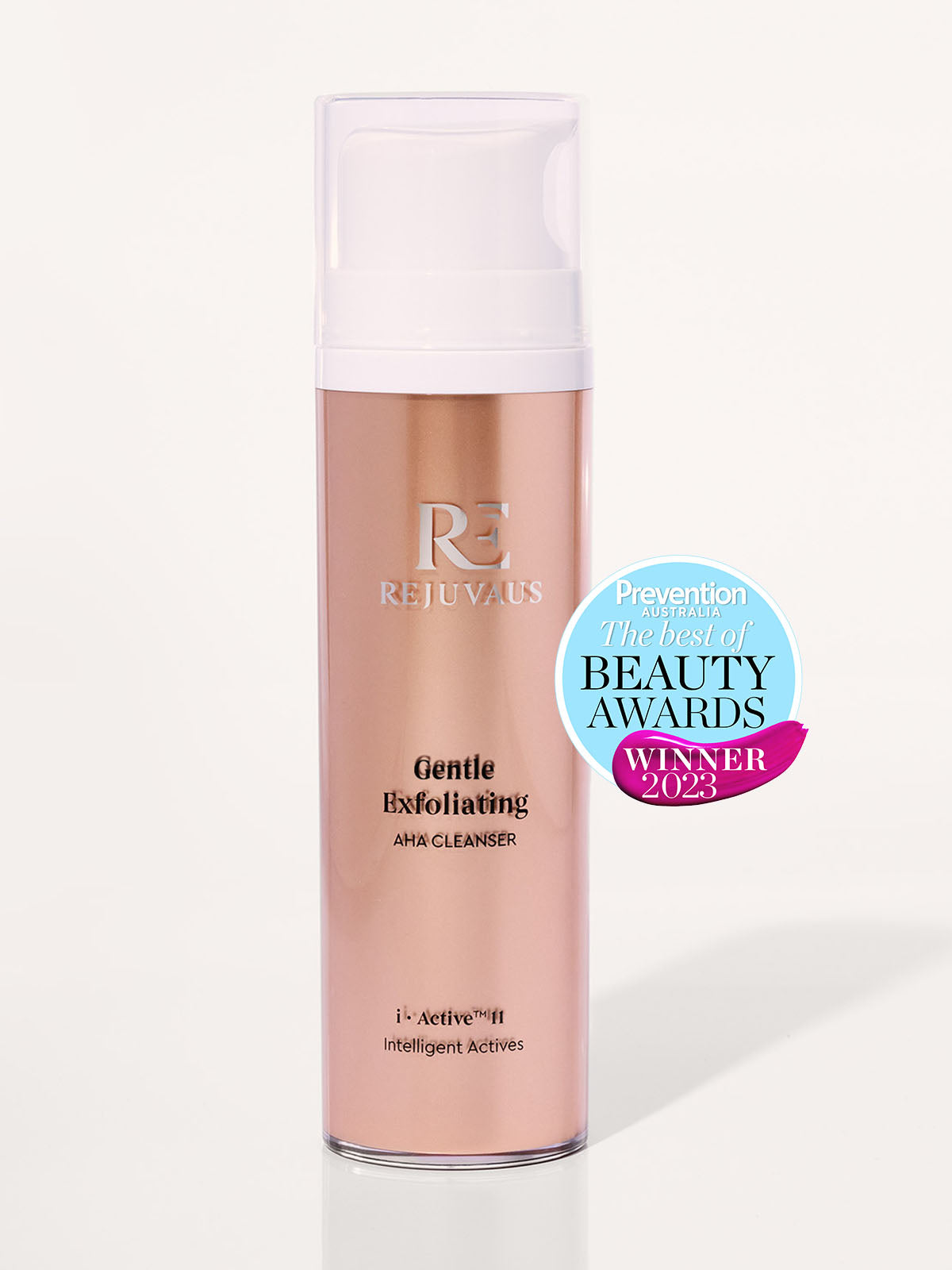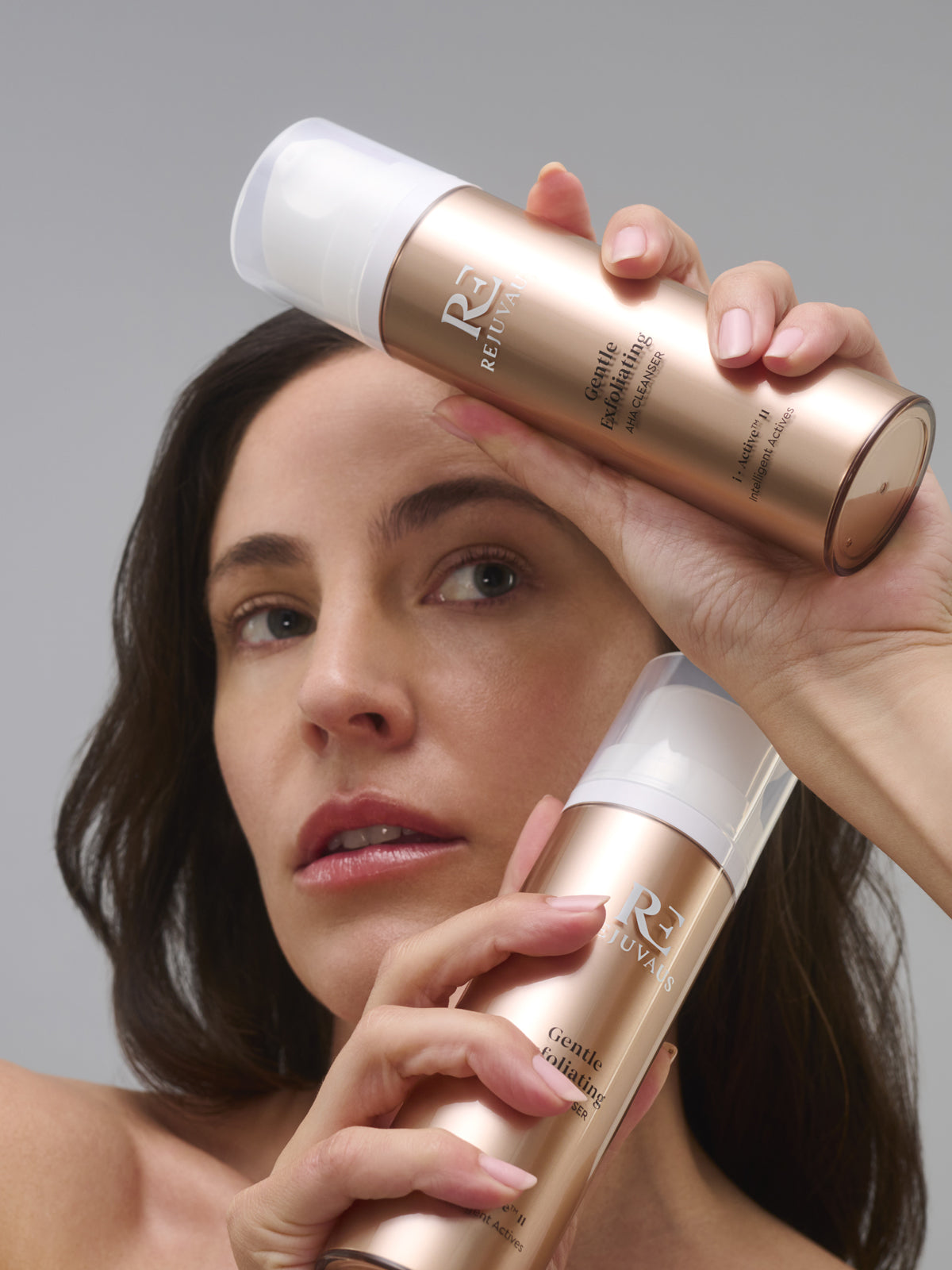 Gentle Exfoliating AHA Cleanser 120ml
Our refreshing triple-action lathering gel cleanses trapped oil, pollution and make-up (including eye make-up) and exfoliates dead skin cells in one single cleanse. Powerful yet gentle Lactic, Malic, and Tartaric Acid clear away congestion to keep pores clear and fresh and prepare the skin for stimulating actives.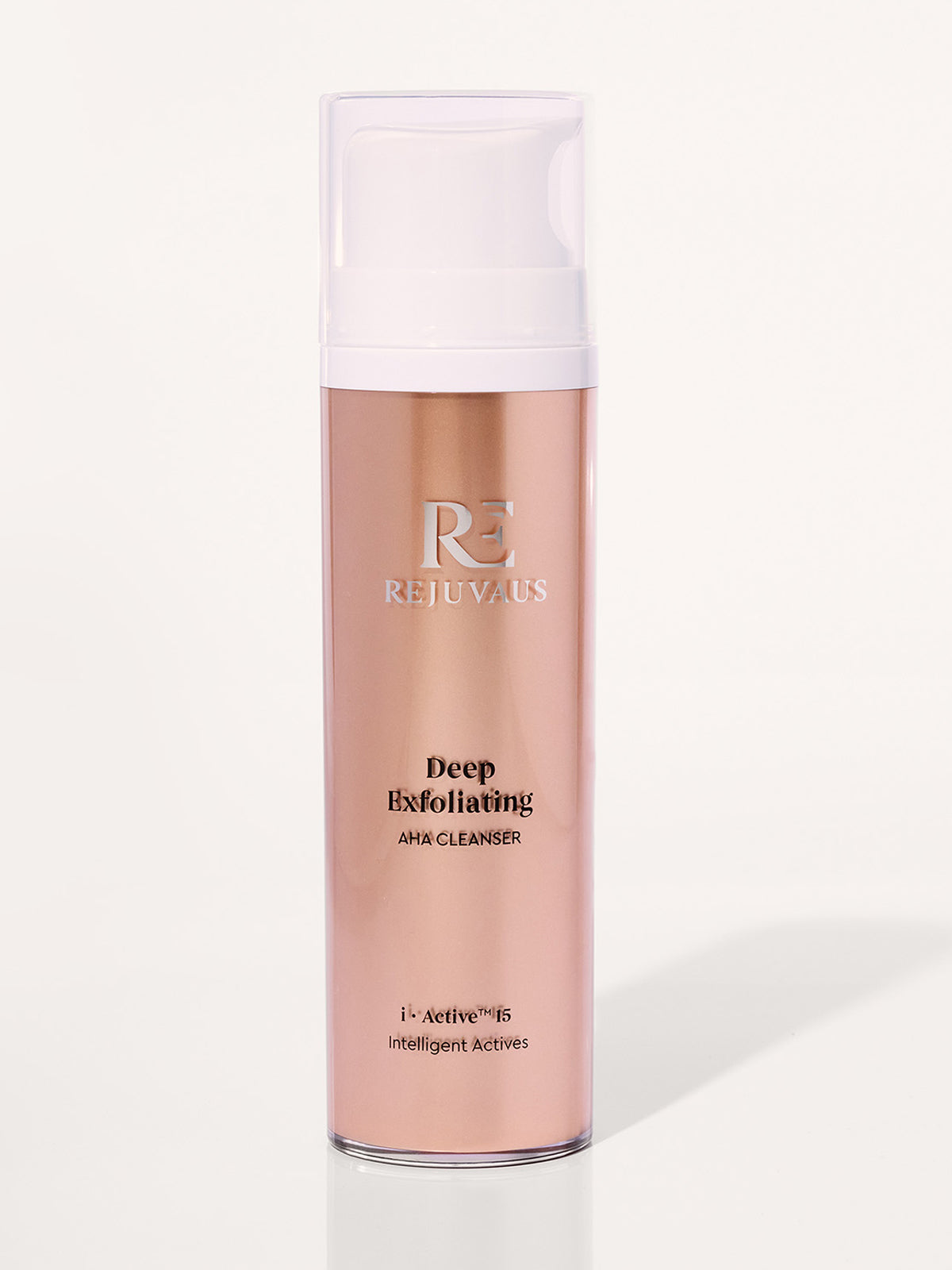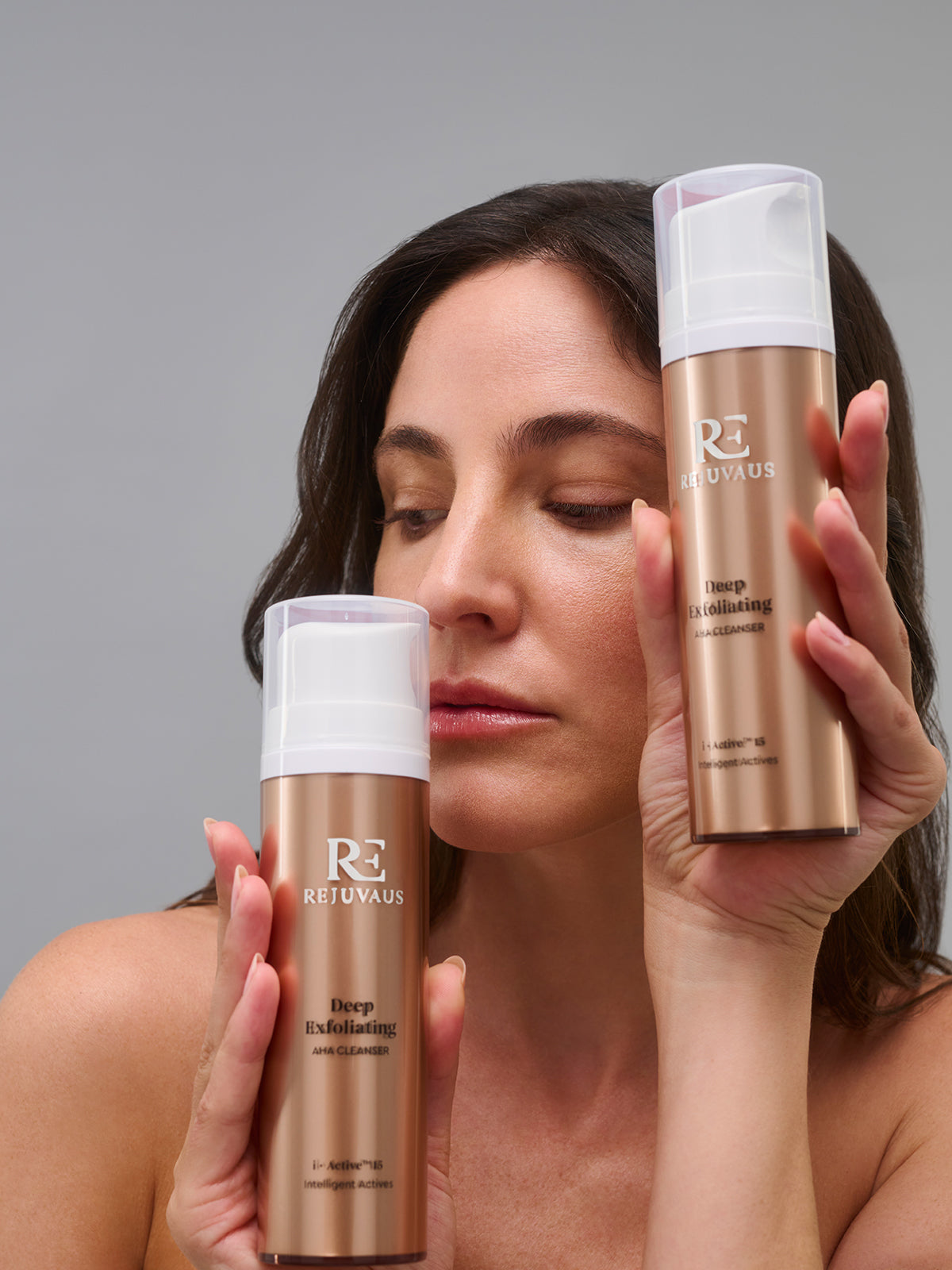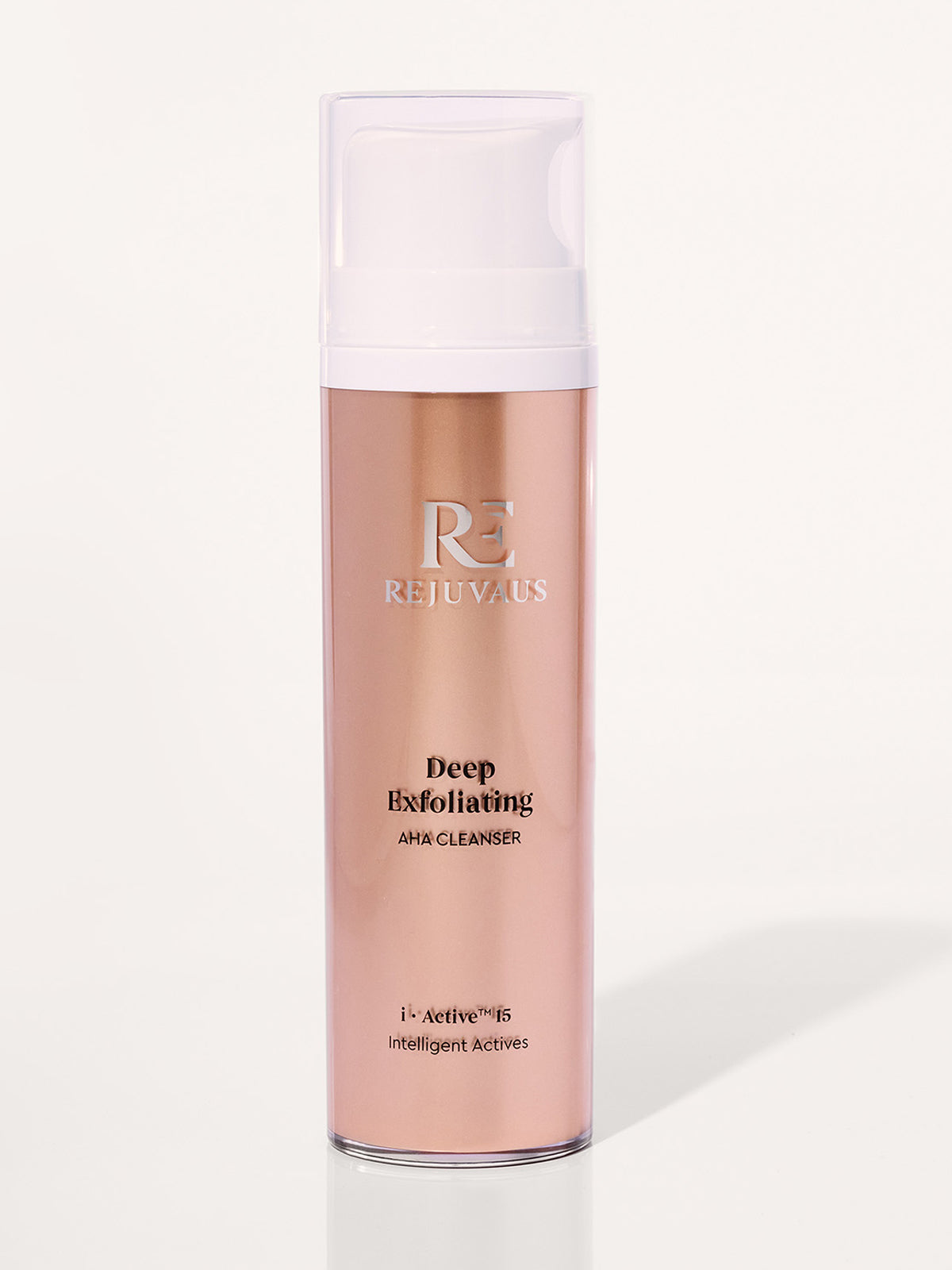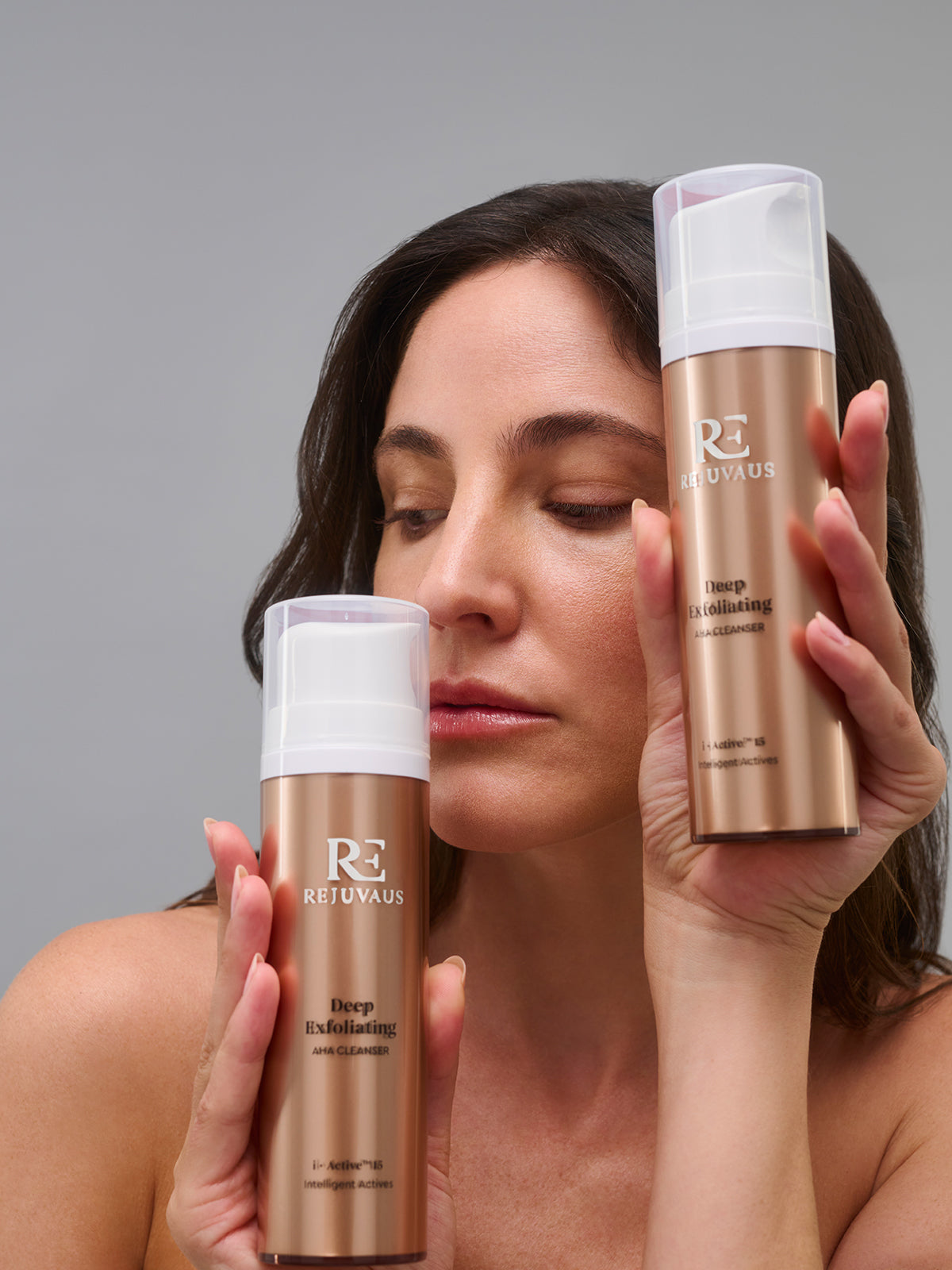 Deep Exfoliating AHA Cleanser 120ml
Our triple-action lathering gel deep cleanses trapped oil, pollution and make-up (including eye make-up) and exfoliates dead skin cells in one single cleanse. Organic fruit extracts and natural non-drying AHAs brighten and clarify uneven skin tone while detoxifying Charcoal absorbs excess sebum and toxins before they prematurely age your skin and clog your pores.
Why a Face Scrub is unable to properly exfoliate your skin
You may think once you've used a cleanser, you only need to exfoliate your skin once or twice a week with a scrub.
Unfortunately, this is not the case. The reason is, once our skin cells are formed, they don't receive any new additional nutrients and have no blood supply. This means, as they move further away from the blood supply they die off. This process usually takes an entire month.

What results is a dead skin cell layer on the surface of your skin which causes blocking, congestion, infection and inflammation. This dead cell layer takes several days to loosen and free itself enough to be washed away, even by effective AHA cleansers. As this process is taking place every minute and hour of the day, rather than once or twice a week, using a coarse scrub or occasional face mask, is not capable of clearing the blockage on the skin's surface.
Why a Face Scrub is unable to properly exfoliate your skin
A leave-on exfoliating serum is a crucial step to clean your skin, and far superior to the occasional face scrub. It is important to apply a leave on exfoliating serum that contains AHA ingredients, as well as Beta Hydroxy Acids (BHA).

Both AHA and BHA ingredient act to exfoliate your skin. By applying a leave on serum with AHA and BHA, it promotes regular and continuous exfoliation of the dead skin cell layer, essentially thinning it out, throughout the day and night.

The problem with most exfoliant serums is that they can dry out and strip the skin and cause more inflammation and further problems.
Why Rejuvaus' Exfoliating Serum is Better Than The Rest
The Rejuvaus Clarify & Repair Exfoliating Serum is a breakthrough serum as it features a slow release, encapsulated BHA Salicylic Acid (15%), blended with other exfoliants, including a 10% solution of AHA natural fruit acid.

What's revolutionary about our Rejuvaus serum is that by Encapsulating the Salicylic Acid, the BHA ingredient can be released slowly and gradually into the skin over an eight hour period. This slow release allows the serum to prevent any buildup, thickening or pore clogging congestion in the dead cell layer on the skin's surface.

It also stimulates new skill cell growth, reduces inflammation and has zero side effects.
This process also allows the large amount of active ingredients present within the serum to do their job of deeply penetrating to provide optimal benefits for the skin cells.

On top of being an exfoliant, the Clarify & Renew AHA BHA Serum also contains an amazing 22 active ingredients, that fall in six of the eight categories of active ingredients essential to restoring your skin.

These categories of active ingredients include:
Growth factors and collagen peptides to further help tighten and refine pores

Hydrators and barrier repair lipids

Anti-inflammatory and anti-infective ingredients

Pre and probiotics to restore the skin's natural microflora (micro biome)

Pigment regulators, and

Antioxidants to prevent free radical damage
The final step of your skincare routine
These Rejuvaus cleansers and Clarifying Serum can be used as your sole skincare routine, because of the amazing ingredients in each product.

Although, it is important to finish your morning skincare routine by applying a moisturiser with UV protection. We recommend our Rejuvaus Super Moisturising UV Lotion to reflect daylight radiation away from the skin and prevent absorption.

All Rejuvaus skincare products have a wide range of essential ingredients that will repair and restore your skin, no matter your skin type.
Dr Garry Cussell
Dr. Garry Cussell strongly believes everyone's skin can look beautiful at any age regardless of their history, and that lasting beauty comes from within. We enable anyone to achieve professional results safely and easily in the comfort of their own homes.

Dr Cussell is the founder of Rejuvaus Skincare and Rejuvenation Clinics of Australia. He is a member of the Australasian Society of Cosmetic Medicine and has been a qualified cosmetic practitioner for over 37 years.

He is a leading cosmetic medicine expert in a wide range of non-surgical skin procedures such as skin tightening and strengthening, stem cell and growth factor skin, and skin repair lasers.